Fertile Ostrich eggs - Activia Park
Wednesday, 27 December 2017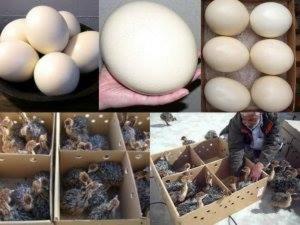 Item details
City:
Activia Park, Gauteng
Contacts

Erasmus

0639750905
Item description
Fresh Ostrich Hatching Eggs ready to incubate. Ostrich eggs are gathered daily, rinsed and sanitized and held in cool storage until shipping. These ostrich eggs are specially packed and shipped Priority Mail with delivery in 2 or 4 days to most areas worldwide. Any timely guaranteed deliveries must be shipped Express Mail.

We always carefully select the best ostrich eggs for incubation and hatching. Our ostrich live in large group paddocks so the rate of fertility is very good in our ostrich hatching eggs. However we cannot guarantee fertility and hatching success with factors affecting shipping and customer error in incubation process. Reality of hatching is--not all eggs are fertile; not all fertile eggs will hatch; and not all chicks will live. Success hatch rate has been 50 % or better with our customers.

Please do read all you can on raising the ostrich as this is not an easy task. Quality dependable incubation equipment with professional dedication is required to be successful in hatching and raising the ostrich chicks. And very strong fencing and shelter must be provided for the older chicks and adults for their safety and yours. The ostrich are awesome beautiful birds but raising them successfully requires a real commitment. Our ostrich live happily in our nice facilities and have quality feed and shelters with good egg production. We love our ostrich and they are a fun part of our beautiful farm here in Odense Denmark. I have raised these birds for 30+ years and would be happy to answer any questions.